Welcome to Portland Friends Meeting
We invite you to join us for Meeting for Worship – Sundays at 10:30 AM on Zoom.
To receive the Zoom link, please email the Co-Clerks
At the core of Quaker Faith is our belief that there is that of God in every person. It is our trust that all people can have a direct inward experience of divine love, healing and guidance. We have learned that through responding to this guidance we can come to have lives reflecting the light and love of God. This is the hope, the invitation and the promise that gathers us as a people called "Friends."
Portland Friends Meeting is an open and affirming community which welcomes attenders from many faith traditions.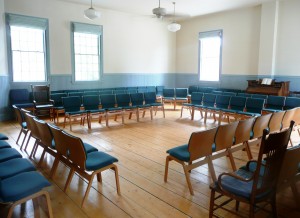 Worship is held:
SUMMER 2021 SCHEDULE. Worship will take place at 5 p.m. on Zoom from June 20 through September 5
To connect to our Sunday online worship, you can find the link in our weekly e-group announcements. If you are not signed up for the e-group, please contact the Co-Clerks.
In-Person (not during COVID)
First Sundays

Meeting for Business 9 a.m.
Meeting for Worship 10:30 a.m.

Second and Fourth Sundays

Singing 10 a.m.
Meeting for Worship 10: 30 a.m.
First Day School for children 10:45 a.m.

Third and Fifth Sundays

Singing 10 a.,m.
Meeting for Worship 10:30 a.m.
Meeting for Worship after 11:30.  We meet for worship every Sunday at 10:30 am during the school year.  We meet for worship every Sunday at 6:00 pm from the 3rd weekend in June through Labor Day in September.

Young Adult Friends Midweek Worship.

Wednesdays Unprogrammed worship followed by friendly conversation, in a small group of people in their 20's and 30's. For location and information, contact the Young Adult Friends Coordinator.