Welcome to Portland Friends Meeting
We invite you to join us for Meeting for Worship – See details below
At the core of Quaker Faith is our belief that there is that of God in every person. It is our trust that all people can have a direct inward experience of divine love, healing and guidance. We have learned that through responding to this guidance we can come to have lives reflecting the light and love of God. This is the hope, the invitation and the promise that gathers us as a people called "Friends."
Portland Friends Meeting is an open and affirming and advocating community. We welcome attenders of all gender identities and sexual orientations.
We also welcome those from many different faith traditions.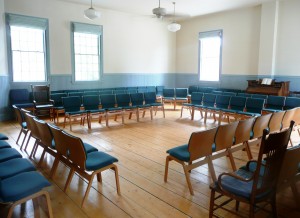 Come join us for worship!
COVID NOTE as of 9/15/22: On September 25, we will be having worship at 10:45 a.m. at the Friends School of Portland, outdoors and masks optional when the weather permits, indoors and masked during inclement weather. After that date we will return to the Meetinghouse at 1837 Forest Avenue, Portland. There will also be a zoom option every week. See below for details, and please check back here for any last-minute updates.
Every Sunday we offer an in-person option and a zoom option, both starting at 10:45 a.m. and lasting approximately one hour. On the First Sundays of each month, we hold Business Meeting at 9:00 a.m., followed by Worship at 10:45 a.m., and both of these meetings are hybrid, with the in-person and the zoom attendees linked together.
In person at the Friends School of Portland on Sunday, September 25 at 10:45 a.m.
Location: 11 U.S. Route 1, Cumberland
Consider bringing your own lawn chair, although we will have some chairs available.
Starting October 2, in person at the Portland Friends Meetinghouse on Sundays at 10:45 a.m.
Please carefully read and observe the COVID Meetinghouse Use Guidelines below, which require masks and either full vaccination (including all available boosters) or a negative rapid test.
          Carpool to the Meeting -  Sign up to be a driver or  Sign up to be a rider
For families--child care, first day school and more:
Child Care - We are pleased to offer activities for youth of all ages whenever Meeting for Worship is in person (see schedule above). There are playgrounds and sandboxes at the Friends School, and plenty of space for kids to run around and be kids.
First Day School - Please check with Emily Troll (see below) about First Day School possibilities during the summer.
Gatherings For All Ages - We are also planning special events from time to time, and collaborating on programmed intergenerational meetings with other nearby Quaker communities
Contact Emily Troll, Youth and Family Coordinator, for details and to join the families mailing list.
For Young Adults:
Young Adult Friends Midweek Worship -- On Wednesday evenings at 7 p.m. there is an unprogrammed worship followed by friendly conversation, in a small group of people in their 20's and 30's. For location and information, contact the Young Adult Friends Coordinator.
To receive regular communications about Sunday worship and other Meeting matters, you can sign up to receive our weekly e-group announcements. More information here.
Contact Co-Clerks Peter and Rob if you have any questions.
Meetinghouse Use Guidelines
Last Revised: March 31, 2022
Subject to change as conditions allow
If you feel even the

slightest bit

unwell, please stay home and join us on zoom. This includes sniffles, runny nose, sore throat, headache. Don't assume it's not covid just because it seems mild. And even if it's just a cold, let's not spread those around, either. 

If you have not already done so and are eligible, please do get fully vaccinated, which includes any available boosters. If you are unable to get fully vaccinated, then you must take an over-the-counter rapid test (available at most pharmacies) that same day and receive a negative result prior to entering the building. We will have some rapid tests on hand at the Meetinghouse, which you can take upon arrival while waiting in your car. Contact the Co-Clerks ahead of time to obtain a test, and plan to arrive at least 20 minutes early to take the test.

Masks are required. We encourage KF94, KN95 or N95 masks, with surgical masks being a second best choice. Cloth masks are discouraged, unless your cloth mask has at least three layers and is tight fitting. New research has shown that cloth masks are much less effective at stopping the virus. We will have a supply of KN95 masks available at the entrances to the Meetinghouse. 

Depending on the level of transmissibility from week to week, the Co-Clerks may advise us that masks may be removed during Meeting for Worship while giving a message or announcement.

For Meeting for Worship and similar Meeting-wide events: 

For the time being, everyone inside the Meetinghouse must remain masked, regardless of your vaccination status, except when giving a message or announcement (we will have a microphone and speaker available).

We will follow social distancing practices as best we can, but for now there will not be any attendance cap or reservation system.

Fellowship before and after Meeting for Worship is encouraged, but you must remain masked while indoors. Feel free to unmask and you do not need to socially distance when outdoors.

For the time being, we will not serve snacks indoors, except that snacks for children may be served downstairs at the discretion of the Youth and Family Coordinator. 

A Meeting host will keep a list of attenders, for contact tracing purposes.

There are five portable air purifiers in the Meetingroom, and we will have them on during Meeting for Worship. There are also three purifiers in the basement. Please use them for other meetings and events, and feel free to temporarily remove them from one room to another room that you are using for a smaller meeting, as long as you return them to original location. 

As weather permits, open windows in any room that you are using, including the bathroom (curtain will block the view). Turn on overhead fan in Meeting room. Keep windows open for at least 20 minutes after use, to replace air flow. But please remember to close windows when you leave.

To schedule an event, even a small group meeting, be sure to check the Meetinghouse calendar at

www.portlandfriendsmeeting.org

, and contact the Meetinghouse Use Coordinator at meetinghouse@portlandfriendsmeeting.org

.

For smaller group meetings: Limit your visit to as few rooms as possible. Please do not hold meetings in the library, as it lacks good ventilation. Consider meeting outside if your group is not fully vaccinated. If everyone in the group is fully vaccinated, you may choose to take off masks and not socially distance.

 

Families or groups seeking to hold memorial services and similar large events will be required to follow these Guidelines.