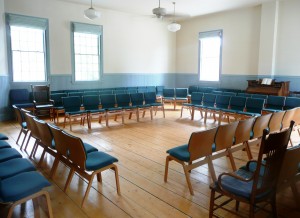 Welcome to Portland Friends Meeting.  Please browse our site and we invite you to join us for Meeting for Worship at 1837 Forest Avenue, in Portland, Maine!
We meet for worship on Sunday and Wednesday and all are welcome:
Sunday Worship:

at 10:30 AM – September (after Labor Day) through June
or at 5 PM- Starting in late June and running through Labor Day weekend – followed by a potluck meal to which everyone is invited.

Mid-Week Worship on Wednesdays:

5:30-6:30pm, starting January 8th, 2013.  Due to possible weather events and any unforseeable coverage issues, please check the banner running at the very top of this page before heading to the meetinghouse, to make sure mid-week worship is being held as scheduled.
Directions
1837 Forest Ave Portland, ME 04103

View Larger Map