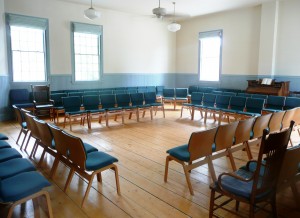 Welcome to Portland Friends Meeting.  Please browse our site and we invite you to join us for Meeting for Worship at 1837 Forest Avenue, in Portland, Maine!
Worship is held:
On Sundays in the Summer (beginning June 22, 2014 – through Labor Day weekend):

at 9 AM – note: childcare is not available
at 5 PM – followed by a potluck meal to which everyone is invited.  Childcare is available.

During the School Year:

at 10:30 AM on Sundays (beginning the Sunday after Labor Day and continuing through mid-June)
at 5:30 PM on Wednesdays – Mid-Week Worship  Due to possible weather events and any unforseeable coverage issues, please check this site before heading to the meetinghouse, to make sure mid-week worship is being held as scheduled.
Directions
1837 Forest Ave Portland, ME 04103

View Larger Map